1 Karton Sonntagsbrötchen
1 Karton Brötchen um 15€! Das sind 30 Brötchen zu je 0,5€.
Ware in B-Qualität:
Bei den hellen Brötchen handelt es sich um Ware in B-Qualität. Geschmacklich sind sie ident mit unseren hellen Brötchen, die Krume ist jedoch dunkler als normalerweise. 
Die Brötchen kommen lose in einem Plastiksack (keine Backfolie) verpackt und können eingefroren werden. 
€15,00
€23,95
you save €8,95
€7,14 / kg
about us
We are a young, innovative, 100% wheat-free and gluten-free bakery from Austria and want to inspire the market with outstanding products.
We founded our company in January 2016 based on the idea that gluten-free bread and pastries must taste great and shouldn't cost more than an organic product. In mid-2018 we moved into our new bakery in Ebreichsdorf (Lower Austria) - 15 km from the Vienna city limits.
Here, with the most modern facilities and a team of over 18 hard-working employees, we produce 100% gluten-free and wheat-free bread, pastries and confectionery according to the highest food quality standards.
Barbara and Felix Eichinger

More information about the preparation of our products
Come by our factory outlet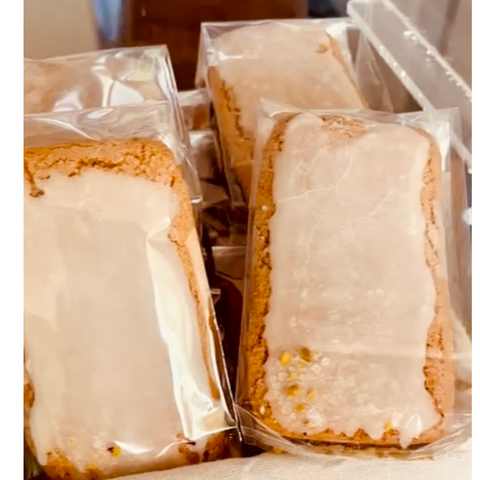 Lebkuchen 2er Pack
Herrliche saftiger Lebkuchen mit viel Honig.
100% WHEAT FREE 100% GLUTEN FREE
Naturally gluten free
High in fiber
With preference from Austria and organic
Enriched with superfoods
Easily digestible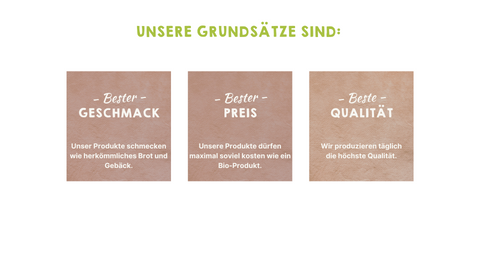 Sky Larimar
satisfied customer
"Incredibly good, gluten-free, fresh cakes, breads and pastries. These products make life easier and sweeter for celiacs."
Habe zum ersten Mal bei euch bestellt. Die Produkte sind der Hammer. Ich werde auf jeden Fall regelmäßig bestellen.
Ich bin so froh euch zu kennen wirklich super dass es euch gibt.
For me, the range of this company means a 200% increase in my quality of life. Due to my many intolerances, I have to pay attention to much more than "just" gluten-free, especially due to my histamine intolerance. Here I FINALLY found bread and pastries that I can actually eat and that also taste great. The self-service shop is simply amazing! I'm just super happy to have discovered you! ☺️ Keep it up!
Add customer reviews and testimonials to showcase your store's happy customers.
We are a 100% wheat and gluten free bakery and confectionery
Requests, suggestions or questions? We look forward to your message and will get back to you as soon as possible.
Datenschutzerklärung
Bitte beachten Sie
unsere Datenschutzerklärung:
frequently asked Questions
We are happy to help with words and deeds. We have already collected the most frequently asked questions here. If a question remains unanswered, then simply write to us at onlineshop@weizenfrei.co.at